Armenian Family Stories and Lost Landscapes
Ermeni Aile Öyküleri ve Kayip Mekanlar
What is it to be an exile? Armenians have been dispersed all over the World mainly because of the tragic genocide of 1915 which took place during the final stages of the Ottoman Empire. This work is about family histories as told through photography and sound. I examine the objects that remain from their ancestral past such as a silver embossed cane handle, a lump of sugar, a family bible and the photographs that testify to past existences. I examine the reemergence of the past through memory and go to their former towns and villages to photograph that which remains. The work opens up a discourse between then and now and explores post memory in itself.
I first became interested in the Armenians in 1990 when living in Venice, Italy, where I worked for a year teaching English on the Armenian Island of S. Lazzaro. I later worked on several radio interviews for the BBC World service in Armenia in 1992.
This work culminated in three exhibitions in London, Venice and Istanbul, and forms part of a sound archive on Armenian family histories.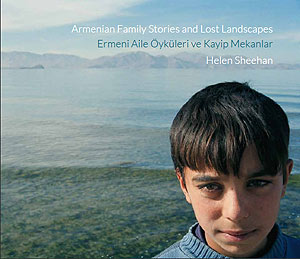 You can read the exhibition catalogue on Issuu or buy your own copy from Blurb
© 2017 Helen Sheehan